My AmeriCorps: No More WBRS
June 30, 2009

My AmeriCorps Launches This Month: WBRS No Longer Active after July 15, 2009

Dear Colleagues,

My AmeriCorps is on schedule to launch at the end of July. Please read the important steps below and follow the instructions to help prepare you for the launch.

Online Registration

As we have mentioned in previous emails, we will be offering online webinars and tutorials to provide you the information and tools needed to understand the functions of My AmeriCorps. Online registration for the webinars is now available at the Resource Center. At this site you will find list of the webinars offered, a calendar of dates, and the link to register. Please be sure to register for the webinars specific to your program.

WBRS Transition

In preparation for the launch to My AmeriCorps, grantees need to complete all WBRS actions by July 15. A two-week gap between the end of WBRS and the launch of My AmeriCorps is necessary to ensure that the data from WBRS is properly transferred to My AmeriCorps.

Only those forms and requests (enrollments, exits, suspensions, reinstatements, transfers, slot corrections, etc.) that have been approved in WBRS will be transferred to My AmeriCorps. If on July 16th you have tasks that were initiated but not approved in WBRS, you will have to reinitiate the requests in My AmeriCorps after the launch. Please take the time prior to July 15th to ensure that all WBRS actions have been completed and approved using normal WBRS processes and procedures.

We expect grantees to put a plan in place to ensure compliance with 30-day requirements during the transition from WBRS to My AmeriCorps. We also recognize that this transition might make compliance with 30-day requirements very challenging for some grantees. If you are such a grantee, please be sure to explain in your next Grantee Progress Report the special circumstances that led to instances of non-compliance with the 30-day requirements during the WBRS to My AmeriCorps transition.

If you are currently using WBRS for member time tracking, progress reporting, and/or financial reporting, please ensure that alternative systems will be ready for use by the My AmeriCorps launch because My AmeriCorps will not support time tracking, progress reporting, and financial reporting functionality.

WBRS will be available in read-only status for a limited time after My AmeriCorps is launched.

We will provide more information in upcoming emails. In the meantime, if you have questions or feedback, please contact you Program Officer or feel free to send us feedback to myamericorpsfeedback@cns.gov.


Thank you for your continued patience throughout this process.

In Service,

Kristin McSwain

Chief of Program Operations


Kim Fritz


Why I Serve:

Kim Fritz, current HOGA AmeriCorps, on her experience.

In May 2008 I graduated from McGill University in Montreal with a BA degree in English Literature, Art History, and Educational Psychology. Graduating from McGill was a tremendous experience; not only for the world-class education I received, but my International Baccalaureate credit gave me the opportunity to graduate in three years. Having done so, I decided that before I go on to further studies I would take my extra year and do something extraordinary-of course, like all the best liberal arts grads, I hadn't quite ironed out the logistics of "extraordinary."


When I graduated I had no idea what I wanted to do-or, to be frightfully realistic, what I could do. Like any good student, I was in full admiration of the elevated endeavors of the Drs, Teachers, and Lawyers of the world. But, I was also drawn to the generative imagination of the Artists: writers, painters, and thinkers simultaneously shaping and reflecting our history. What I hadn't quite figured out yet was where the two seemingly discrete tracks merge.


What I've found through my time with Hands On Savannah and AmeriCorps is people. I have always believed-and to an extent preached-that people are our most valuable resource. Over these past seven months I have had the opportunity to see that proven daily. When I talk about what I've done, or the difference I've made I won't use a singular noun. I can't. Those two tracks merge in the collective "we." We are people practicing the art of making our history a better one.


Originally, I contemplated international as well as other national service programs. One in particular offered to place me with community organizations anywhere in the country. However, after living abroad for three years I decided that I would rather return to Savannah to bring the skills I would have shared elsewhere, here. Although I didn't grow up here, I had worked and volunteered in the area enough to know that both the need for and desire to help is strong in Savannah. I believe that growth is a collaborative process. As such I work everyday not on, but rather with and in the Savannah community. I came to AmeriCorps to do something extraordinary for a year. What I've learned is that "extraordinary" is not something that can or will ever be contained to one year of service.


I am an AmeriCorps. What you may not know is that I always have been. And so have you. Maybe never in uniform, or direct service, but in perspective and in heart that shepherds us toward tomorrow. Us AmeriCorps have a pledge. We may not have the words memorized; we may not even read it regularly. But, we live it and I hope you do too:

I will get things done for America--
to make our people safer, smarter, and healthier.
I will bring Americans together
to strengthen our communities.
Faced with apathy, I will take action.
Faced with conflict, I will seek common ground.
Faced with adversity, I will persevere.
I will carry this commitment with me
this year and beyond.
I am an AmeriCorps member . . .
and I am going to get things done.

-AmeriCorps Pledge


Georgia All-Corps Service Day a Success!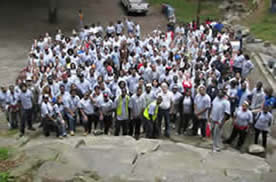 May 9-16, 2009 was AmeriCorps Week across the nation. AmeriCorps Week is a recruitment and recognition event designed to bring more Americans into service, salute AmeriCorps members and alums for their powerful impact, and thank the community partners who make AmeriCorps possible. Governor Sonny Perdue officially proclaimed May 9-16, 2009 as AmeriCorps Week in Georgia.

This year several of Georgia's AmeriCorps programs participated in AmeriCorps Week activities in their communities throughout the week.

-The Georgia Personal Assistance Services Corps set out to beautify the Cator Woolford Gardens at the Frazer Center in Atlanta by clearing existing walking paths/trails and planting flowers and shrubs. The event was honored to have Mr. Eric Tanenblatt, board member for the Corporation for National and Community Service and Volunteerism, present at the event.

-Hands on Atlanta AmeriCorps members spent their entire week using their after school enrichment programs in 27 out of 35 partnering schools as a miniature career day. The members talked with the students about National Service and the importance of giving back to communities.

-Inner Harbour Georgia AmeriCorps members spent a day cleaning, restoring and rebuilding a neglected set of cabins on Inner Harbour's property.

-Jumpstart Georgia AmeriCorps members at Georgia Tech partnered with Northwest Youth Power, Inc. to host a carnival and awards ceremony for the children they serve in the Bankhead Community in Atlanta. Throughout the day Jumpstart members provided a safe place for children to play, provided a donated book to each child and gave families information on activities they can do with their children at home.

-Macon Police Cadets AmeriCorps assisted in cleaning Linwood Historical Cemetery located in one of the programs targeted neighborhoods, Macon Pleasant Hill.

-Outward Bound Atlanta AmeriCorps members worked to build a greenhouse at Parkside Elementary School as an additional
learning tool for their environmental education activities at the school.

-Service to Families in Fannin County AmeriCorps members spent the week cleaning the campus of the local Fannin County High School campus to help the school prepare for graduation festivities.

-Task Force for the Homeless hosted a dinner for the community, AmeriCorps Alums, current AmeriCorps members and future AmeriCorps members. They were joined by new AmeriCorps VISTA members from across the southeast as well. Task Force members also participated in two speaking engagements helping to encourage individuals to become involved with the AmeriCorps program, as well as, joining the community to create a roof top garden at the Metro Atlanta Task Force for the Homeless.

GCSV celebrated the end of AmeriCorps Week 2009 with a Georgia All-Corps Service Day at Chastain Park on Saturday, May 16, 2009. AmeriCorps members from across the State of Georgia joined together for a day of service and fellowship. Members from metro-Atlanta, Macon, Albany, Savannah, and Fannin County spent a wonderful day beautifying Chastain Park. Georgia AmeriCorps members were joined by Georgia AmeriCorps Alums and AmeriCorps VISTA members from Georgia, South Carolina and Florida. GCSV partnered with the Chastain Park Conservancy who hosted and helped organize the event. There were 233 Georgia AmeriCorps members and 30 non-members present, plus 13 Chastain Park Conservancy staff and volunteers.



ARRA Formula Grants Awarded by CNCS
American Recovery and Reinvestment Act Formula Grants Awarded by CNCS

The Georgia Commission for Service and Volunteerism and seven Georgia AmeriCorps programs are planning a unique, one-year-only program of national service designed to use funds from the economic stimulus legislation passed by Congress in February to assist Georgians and Georgia communities.
The Georgia Recovery Corps will deploy AmeriCorps members in service programs focused on improving employment conditions, assisting persons facing home foreclosure or rehabilitating housing.
Late last week, the Corporation for National and Community Service awarded American Recovery and Reinvestment formula grants totaling $1,037,456 to support AmeriCorps members this summer. The projected start date of the Georgia Recovery Corps is June 15, 2009.
The AmeriCorps programs chosen to participate in the formula Georgia Recovery Corps are Hands On Georgia, Albany Police Cadets, Refugee Resettlement and Immigration Service of Atlanta, Georgia State University, Macon Police Cadets , Cobb Housing, Inc., and Inner Harbour.
Details of the specific Recovery Act grants, provisions, and the activities of the Georgia Recovery Corps will be posted on www.AmeriCorpsGA.org.


2009 1st Quarterly Report
A MESSAGE FROM GEORGIA COMMISSION FOR SERVICE AND VOLUNTEERISM EXECUTIVE DIRECTOR JOHN TURNER

Thanks to all our AmeriCorps program staff for submitting the Quarterly Report on service and volunteerism data during this very busy time for everyone. As I suspected, the numbers tell an important story about the impact our AmeriCorps programs are having in the area of volunteer recruitment.

Here are the January through March, 2009, numbers from our 15 AmeriCorps programs:

AmeriCorps Member Service Hours -- 109,280
Number of Clients Served -- 16,276
Number of New Volunteers -- 9,572
Number of Volunteer Hours -- 20,889

One interesting way to look at these numbers is to note how AmeriCorps service leverages volunteerism, thereby increasing the impact of the benefit to Georgia communities. For these first three months of 2009, 109,280 hours of AmeriCorps service generated 20,889 hours of volunteer service, a ratio of 5.23 member hours to every 1 volunteer hour recorded. Another quantitative impact of Georgia AmeriCorps programming during this period is the ratio of volunteers to AmeriCorps members around 530 members leveraged 9,572 volunteers, a whopping 1 to 18 ratio of AmeriCorps members to volunteers.

These numbers establish the link between AmeriCorps national service and volunteerism in Georgia that many of us have long known has been one of the great quiet strengths of our programming. Through volunteer recruitment, and well managed inclusion of volunteers in our AmeriCorps service activities, we multiply several times over the impact of the federal and non-federal dollars that support our programs. But, equally important, we also honor the commitment of the AmeriCorps pledge to bring Americans together to strengthen our communities. I encourage our programs, our board, and all supporters of national service to use the information in this first ever Quarterly Report to help us make the case that AmeriCorps programming is a valuable asset to the Georgia communities that are fortunate enough to have them.


In Service,



John Turner


Login to OnCorps Reports


Customer Support an
d Training
s!
Technical support or customization requests: always check the Help area in OnCorps first, for a complete set of video and pdf tutorials. If you cannot find what you need, but you
can
log in, use our
built-in help ticketing system
so we can better troubleshoot your issue.
If you
cannot
log in, send an email to
help@oncorpsreports.com.
Our customer service phone number is (612) 568-8627. Messages are answered during normal business hours (9-5 CST).
Finally, if you would like to schedule a demo or custom training, or would like access to existing webinars and videos, please contact our support desk via a help ticket or email.
Upcoming Webinars
Wednesday, April 4, 2018
Introducing OnCorps Reports
This 60 min. demo will showcase our AmeriCorps and VISTA reporting tools, including: Service logs & member hours reports, program progress & member service reports, financial Reports, as well as communication and messaging features.
Wednesday, April 11, 2018
Custom Forms & Reports: Planning Your Project
This 60 min. webinar will introduce you to the DIY Custom Form and how to plan for creating your own.
Wednesday, April 25, 2018
Custom Forms & Reports: Creating Your Form
This 90 min. webinar will cover the nuts and bolts of creating custom forms and reports in OnCorps Reports.